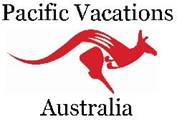 Pacific Vacations Australia offers a wealth of experience in travel and touring both in Australia and overseas.
Based in Melbourne, Pacific Vacations Australia is a fully licensed travel agent with an innovative approach and a commitment to providing quality service.
Their core management team is made up of experienced and tourism professionals with 20 years collective experience in the travel industry. In their individual capacities, they have held senior management positions and headed strategic business units for the most successful Inbound tour operators in Australia.
Their experience includes product development, marketing, contracting and operations. They have first-hand knowledge of Australia, understand your market requirements and enjoy a good relationship with a wide range of Australian operators and suppliers.
Whether you're travelling as free independent travellers (FITs) or in small groups in the company of experienced leaders, they venture beyond the tourist trails and introduce you to the spectacle of colours, sights, smells, sounds and vitality that comprise everyday life in Australia. Their carefully planned programs cover a range of the famous places of interest as well as many less visited gems.
They can custom make cost-effective itineraries which meet you or your clients' requirements – everything from family groups, leisure travel, educational student programs and special interest touring.
Services
Creating the trip of a lifetime with exemplary customer service is their number one priority for both you and your clients. From your initial booking request to the conclusion of your clients' Australian experience, they ensure unique customized programs.
Packages include Meet and Greet, Limousine Transfers, Hotels, Farm Stays, Tours – City, Shopping, Sightseeing, Adventure and Special Interest. They offer Free and Easy packages to allow flexibility of choice and provide a 24 hour contact number.
Customized itineraries can be tailored to suit your group needs. Whether touring for business or leisure, they can design an innovative program for your group. A variety of study tours are available exploring different themes from Geography, Sports, Arts, Music, Festivals, Natural Environments and Technical Visits. The educational content can be arranged to meet the group criteria and curriculum. Programs are available for Primary to Tertiary Level. Their aim is to provide a totally unique and educational Australian experience.
Their commitment to service is appreciated in the management of Special Event Packages, Conferences, Partners Programs, pre and post touring and Incentives.
Travel with Pacific Vacations Australia and visit one of the finest country of the world. Discover the cultural diversity, wealth and beauty of its people and landscape. From the vast desert to the sun-drenched beaches, they will introduce you to the customs, traditions, lifestyles, festivals, fairs and superb food that make Australia the destination of a lifetime. Exploring Australia at grass roots level is the best way to appreciate the huge geographical and cultural diversity of this vast continent.
Huntingdale, Victoria 3166
Australia
Mobile: 61(0) 4 10268704
Phone: 61(0) 3 9544 6319
Fax: 61(0) 3 9544 6848
mitu@pacificvacations.com.au